Rick Case Honda increases conquest sales 4x with targeted video marketing strategy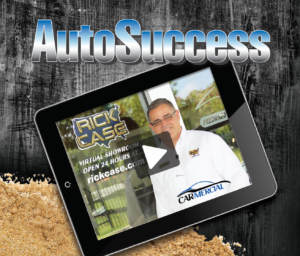 73% of the 11 hours consumers spend online shopping for a car is spent comparing or cross-shopping vehicles. During this time, the average consumer will spend 2 hours performing searches
on the search engines and visit an average of 20 websites before selecting the dealership that will ultimately sell them their new vehicle.
For many dealerships, staying competitive in this environment is a big challenge. However, Rick Case Honda of Davie is not only staying competitive, they are thriving. In 2012, they
implemented a new targeted video marketing strategy designed to increase website traffic and capture more interest from customers driving competitive brands. Today, overall website traffic
is up 100% and their strategy is helping to drive 30,000 visitors a month to their dealership website and has increased Toyota trade-ins by over 400% year-over-year.
When many of us hear numbers like these, we immediately become skeptical. However, the success Rick Case Honda is having with targeted video marketing has been verified by a number
of sources and, to date, they are the only dealership in America to ever be featured in a case study by the world's largest search engine. Rick Case Honda of Davie is one of the most celebrated dealerships in the country and for good reason. They have been the undisputed Honda champion in the Southeast every year since they opened in 2002. They are America's largest Honda retail facility, with over 1,000 customers visiting their campus every day. They are the only Honda dealership to win the President's Award five years in a row and they are currently ranked nationally in Honda's top five for both sales volume and net profit. This is a high-performance dealership with a long history of excellence and innovation.
"Like it or not, we are in a world that is customer controlled", says Richard Bustillo, General Manager for Rick Case Honda. "We spend a lot of money on traditional media trying to get customers into our dealership but no matter what we do, customers ultimately go to the Internet where they can consume information on their own terms. This used to frustrate me but now we use this to our advantage."
A look at Rick Case Honda's statistics validates Bustillo's comments. Although 75% of their advertising budget is spent on traditional media like television and radio, 98% of website traffic
and 91% of the 3,000+ calls they receive every month come from a search engine request or from web-based sources that appear when a search is performed. "The strategy we use leverages what we know to be true about our customer's behavior", Bustillo continues. "First, we know over 90% of customers are going to shop on the Internet. They're going to spend 10 to 12 hours online shopping and comparing vehicles and dealerships. Second, we know that in a 30 to 90-day buying cycle, in-market customers are going to do a lot more online than shop for cars. They are going to check the news, watch highlight reels, engage with friends on social media sites and do a lot of other things that have nothing to do with our dealership. Third, we know that customers respond much better to video than they do to text. They are two times more likely to watch something than read something and they are several times more likely to click on video versus text."
"We knew that if we could find a way to use video where others were using text and find a way to target different types of videos to different audiences, we would have a home run. We expected to
see increases in website traffic and we got that. Unique users rose from ten thousand to eighteen thousand per month and total visits doubled, from approximately fifteen thousand per month to
a little over thirty-one thousand per month. However, what we didn't expect was the impact this would have in terms of increasing activity with conquest customers. In the twelve months prior
to launching this strategy, we averaged 9 Toyota trades per month. Our average over the last 9 months is 43. That represents a 470 increase in conquest business from Toyota alone."
The targeted video marketing strategy that Rick Case Honda is using is having a similar affect with other competitive makes as well. However, what is most impressive is the way the different
components of their overall strategy work together to drive results.
http://richardbustillo.org/wp-content/uploads/2016/06/Sept2013RChonda.png
1119
1310
Richard Bustillo
http://richardbustillo.org/wp-content/uploads/2016/06/rb.png
Richard Bustillo
2013-09-14 14:12:21
2016-06-24 13:45:47
AutoSuccess Magazine: Rick Case Honda Success Story