Rick Case Honda sells 60% more cars in the service lane at the #1 Honda Dealership in the U.S. for profitability.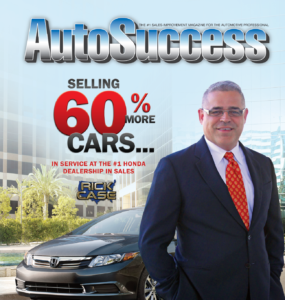 Many dealers face the ongoing challenge of how to effectively reach the right customers with the right message, bring those customers into their showrooms and service bays, and keep
them coming back again and again. As consumer behavior patterns have changed in recent years, so has a dealer's ability to attract and sell customers. The effectiveness of traditional
mass marketing, TV, print and radio, has waned and given way to more successful marketing efforts that combine highly targeted traditional and digital components that include direct email and mail, internet, mobile applications and more. Dealerships that do not understand these targeted traditional and digital mediums and how to successfully integrate them continue to see diminishing returns with mass marketing which remains costly and nearly impossible to measure.
The most successful dealers are using targeted and digital mediums that are less expensive, more measurable and give a better return on investment than traditional mass marketing. The key to their success is integrating all their targeted traditional and digital advertising to maximize results, but this can also present a challenge as the average dealer works with multiple vendors to execute their entire marketing strategy which results in different strategies, messages and designs that too often are not integrated with one another. One innovative and extremely successful dealership, Rick Case Honda of Davie, the No. 1 Honda dealership in the Southeast and No. 3 for Honda nationally YTD, has taken things to the next level. They are not only integrating multiple marketing mediums to effectively attract, sell, service and retain more customers with one marketing partner to execute their strategy, but they are selling customers right inside their own service bays – you can't get much more targeted and effective than that.
"We've increased sales in service by over 60 percent since launching this initiative back in November 2011," said Richard Bustillo, General Manager of the Davie store. "We went from selling 45 units to 105 units per month on average."
Their integrated strategy included many steps that began with a comprehensive five-year historical analysis of their sales and service transactions to determine customer trends. Those
findings were then compared to leading third-party and industry data to establish consumer patterns within their local market. "Our retention rates and gross profit numbers were already
good and we were already mining our own customer base, we just weren't expanding it. I wasn't satisfied because I saw an opportunity to do both," said Bustillo. The results of their assessment enabled Rick Case Honda to identify vehicle owners with the greatest probability of buying or servicing with their dealership, as well as identify same brand owners who had never visited Rick Case Honda, and off-brand owners with a historical pattern of crossing over to Honda.
http://richardbustillo.org/wp-content/uploads/2016/06/Sept2012RChondaSuccessStory.png
1361
1295
Richard Bustillo
http://richardbustillo.org/wp-content/uploads/2016/06/rb.png
Richard Bustillo
2012-09-14 14:26:54
2016-06-24 13:47:35
Success Story: Rick Case Honda sells 60% more cars